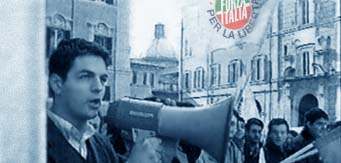 Forza Italia Giovani
International
> Back to our international menu
> Go to Forza Italia's official web site (english, franēais, deutsche, other languages)
Who we are - An introduction
Forza Italia Giovani is the youth organization of Forza Italia, the first Italian party (about 30% nationwide) chaired by the Prime Minister of Italy, Silvio Berlusconi. Since December 1999 Forza Italia is a full member of the European People's Party. We contribute to the EPP Group in the European Parliament with 22 MEPs (including the president of the Committee on culture and youth, a vice president of the EPP Group, a vice president of the Parliament).
Forza Italia Giovani is constituted by all members of Forza Italia between 14 and 28 years old. The links between Forza Italia and FI Giovani are close; the youth movement has full autonomy in its own structure and political positions. FI Giovani follows the same principles as Forza Italia, with special attention for youth politics, student politics, and social activities. The structure presents the national board, the national council (entitled to determine the political line of the movement), the national guarantee committee, the regional levels and the local branches. The national chairman participates to the Presidency board of Forza Italia, the top executive council of the party. The resources of FI Giovani come from the party, and these are proportioned to the number of members of the youth organization (around 90.000 this year).
FI Giovani is born in 1996; the people involved in the construction of this organization had to build a brand new structure nationwide, and this phase has been as hard as interesting. Since January 1999, FI Giovani celebrated the local and regional congresses, becoming a full democratic organization; the internal election system is transparent, and there is no proxy vote. We elected more than 1600 local representatives of the youth movement, and 288 regional representatives. On December 11 - 12, 1999, we celebrated our first National Congress: 248 delegates, elected in the regional congresses, voted and elected our new Chairman, Simone Baldelli, the National Board, the National Council and the National Guarantee Committee. Our next Congress will be held in two years.